Posted on June 21 2020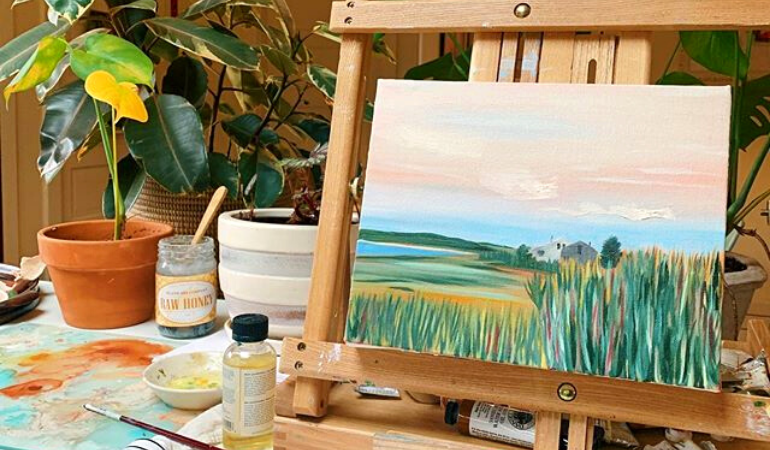 Lily is a painter living on Martha's Vineyard. She works in oil and natural pigment, drawing seasonal inspiration from the Island's natural beauty, beaches, forests, and it's quintessential New England cottages. We spoke

 to her (via email due to social distancing) about her work and her process. Read below! 

 

____________________

 
You live on Martha's Vineyard, what's your favorite part of living on the island?
I love so many things about Martha's Vineyard. The light. The natural Beauty. The beaches. The dunes. The beaches you can drive onto. The cliffs. The diversity of the different towns. The woods and many hiking trails. Hearing the ferry horn from my house and studio. The salt air. The sand that fills my car.

When you're not painting, you're sailing. Has sailing always been a part of your life?
I started sailing about ten years ago. It was something I always wanted to learn--I always wished I had learned as a kid, so I finally just went and learned as an adult. I don't sail as much as I used to, but I do love being on the water in any capacity. I actually get really seasick, so I've been thinking that smaller sailboats might be more my speed. When I am in a smaller boat, closer to the water, and just more connected with the process of sailing, I find I'm not as affected. I never got seasick until I was pregnant with my middle son and we were already living aboard. It was crazy to have it suddenly affect me so strongly, but I loved living on our boat so much, it was worth dealing with it. 

You share a lot of your process on Instagram and I love to see the time-lapses of paintings as you create them. How long does it usually take you to complete a painting?
How do you decide what you want to paint? It's so hard to answer this question! Some paintings I finish in 5 hours, others take up to 30 hours. The time-lapses I have posted were mostly 16x20 in size and those probably took me about 7 or 8 hours on average. When I'm painting a commission of that size it probably takes closer to 12 hours, because I'm really making sure everything is "right" and I'm going back and forth with the client to make any adjustments, etc.

How did you learn to paint? Is it something you picked up yourself?
I always loved art and I did a lot of drawing as a kid. In high school I got really into art and painting and did the AP art classes and considered art school. In the end I chose Bowdoin College instead, and while I took some studio art classes at Bowdoin, I did not major in art. My best painting advice came from my high school art teacher, Mrs Hathaway. She just said "paint what you see, not what you think it is" and it was the most obvious and mind-blowing thing anyone could have told me. We have these ideas about what we are looking at. These stories we tell ourselves about what a person or place or object looks like. If we are seeing it from one angle, our mind tries to fill in the blanks of the parts we can't see. But if you just take the mental processing out of it, and really focus on just painting what you see, it all comes together. I think this advice also really helps to bring me into that meditative state of flow and focus.

Did you always want to be an artist? If not, what did you think you were going to do?
I did want to be an artist up until my mid-twenties when I followed another passion, languages, into graduate school where I studied the Middle East and worked with refugees. I have always been fascinated by our ideas of home and connections to a sense of place, and this is a theme I still explore today in my art.

Do you listen to music while you paint? If so, what's your go-to? What other things do you do before sitting in front of a canvas?
As a mom to three small boys, I don't have a process or routine for getting into my "art mode." That is a luxury for a decade from now! If I get a chance to paint, I just do it. Some days I don't "feel" like it, and I just do it anyways. Most days I love it, my point is just that it takes a certain amount of discipline and if I have a chance to paint, even for a few minutes, I seize it. I love to listen to audiobooks and podcasts and music but to be honest I mostly like to paint in silence. I find that a little bit of quiet and stillness goes a long way in my creative process.

You have three adorable boys that we see in your Instagram stories. How has being their mother influenced you as an artist?
I think it gives me a certain amount of discipline that I didn't have before. Having kids made me understand that if I wanted to do something, I had to make it happen. There is no "right time", there is only now. I can make excuses or I can do it. I picked back up my brushes when my boys were 10 months old, 3, and 5. We were living on a boat. And I was dreaming at night that I was painting again, after a ten-year hiatus. If that isn't a message from the universe, then I don't know what is! So in spite of our small living quarters and the full-time job of keeping their heads above water, I just ordered a bunch of supplies and started painting, and didn't stop.

I celebrate my failures because they have taught me important lessons. What have you failed at and what did it teach you?
I never finished my master's degree, even though I only had my thesis left to complete. For many years I felt like this was a failure...I talked about it as a failure and always found myself saying "maybe I'll go back and finish it". I finally realized that it just wasn't my path, and even though I don't like that I "quit" or failed, I am now doing something that aligns much more with my inner voice, and I need to focus forward instead of worrying about any regrets.

I have a list of things I want to learn to do, learning to sew being number one. What's something you want to try and haven't yet?
Well, to be honest, if I want to try something I generally go try it. I'm not big on waiting. But one thing that is "on my list" is weaving and other textile arts. Rugs and tapestries are so fascinating and beautiful to me.

What's the best life advice you received?
The heart is right and the time is now.