Posted on July 31 2020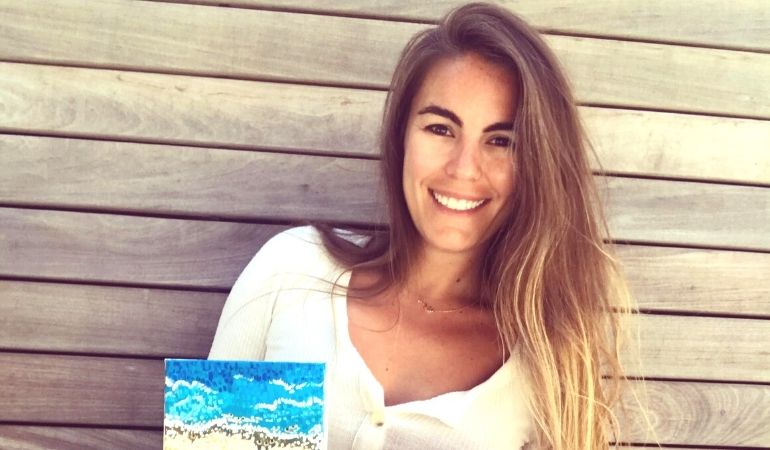 Ashley was born in Beverly, MA and now lives in Boston with her husband. She's a graduate of Montserrat College of Art and draws inspiration from the beaches of her childhood and present. We talked to Ashley about her paintings, her love of the ocean, and her process. Check it out below! 
__________________
Did you always know you wanted to be an artist?

Yes! I grew up always coloring, drawing, and creating. I went to a vocational/technical high school where every other week I was in "shop class" which for me was Design and Visual - that paved my way to get into Montserrat College of Art.
You went to Montserrat College of Art and graduated with a Bachelor of Fine Arts, what did you study there? How has that experience influenced you?

I studied children's book illustrations. It was very time consuming and after college, I went the opposite direction and started painting large abstract canvases that I could throw color on and not worry about details. It's only been in the last 2 years that I've missed the more detailed part of art. It started off with some beach umbrella scenes and from there, it has blossomed into sailboats, beach days, and other soon to be coastal work.


Where do you live now and what's a place nearby that everyone should visit when they go there?

I live in the Seaport in Boston. I've been living in this part of the city for the last 5 years and have loved every minute of it. I have the ocean right there (my inspiration for all my work) and so many delicious restaurants! My favorite I tell everyone to go to is Blue Dragon! O and the ICA (Institute of Contemporary Art) is a must!

The ocean is present in all your pieces. What's the symbolism of it to you?

I grew up going to the beach all the time, we'd stay from sun up to sundown. It's always been a place of happiness and beauty to me. I love how magical the ocean is, how the colors can change constantly, and how there can be so much movement and so many layers. To me, the ocean is the most beautiful thing to recreate over and over again - it constantly challenges me and brings me joy. 


What do you do when you're not painting?

When I'm not painting, I'm usually hanging out with my husband. He's my rock, pushing me to achieve all my goals and believing in me even when I don't. You can find us either at the beach or sitting at home on our couch watching some funny tv shows - our favorite is Parks and Rec!

What's your favorite place on the Cape?

Favorite place on the cape would have to be Truro. I love the beaches there and the winery!


How long does a painting usually take you from start to finish? Tell us about your process.

My paintings can take anywhere from a few hours to a few weeks to create. Depending on size and style. I always love to add a base color to the canvas whether that be yellow or a golden brown and then from there I start to lay out the colors I want the piece to be (lots of shades of blues). I work mainly with a palette knife to get extra texture in each piece, but with some of the smaller pieces, I have my two favorite trusty paint brushes that I use for all the little details. 

We've hosted some paint nights with you at our Derby Street pop-up in Hingham, MA and that was a lot of fun. As soon as social distancing is a thing of the past, we definitely want to host more of those in the shops with you. With that said, what's surprised you most about teaching people to replicate one of your paintings?

I'd love to teach another painting workshop! I miss creating with other people. The thing that surprised me the most about teaching people how to create my "Oceanscapes" was how excited everyone got by the end of the workshop and how proud they were of what they had just created. A lot of people were so surprised that they had created a piece of artwork that they actually wanted to hang in their homes! I've gotten so many pictures sent to me of "Oceanscapes" hanging in bathrooms/sunrooms/bedrooms/kitchens. It fills me with so much joy knowing how happy they are with their finished piece. 


Did you paint during quarantine? How has this pandemic affected you so far?

Yes! That's pretty much what kept me sane during quarantine. My husband and I went on our honeymoon to Australia, Fiji, and New Zealand right before all the craziness happened. We got back two days before the mandatory stay-at-home order was put into effect. I used all my quarantine time creating pieces that reminded me of all the beautiful places we saw. It was actually kind of ok being quarantined since I got to use all my energy for some really wonderful new work.

What's one thing you want people who buy your work to know?

I want people to know that each piece represents a little bit of me, who I am, and how I'm ever-growing and changing. Each color, each brushstroke comes from a place of pure happiness and joy in me and I want the buyer to feel that when they purchase or even just see my work.